Dr. Hopson and staff will be attending the Southwest Dental Conference January 30-February 1, 2014 in Dallas, Texas at the Kay Bailey Hutchison Convention Center.
This SWDC is a regional meeting with clinicians who have come across the globe to provide the dental team with a variety of topics, workshops, and lectures. The conference will be one of the best educational experiences for the doctors and their team.
Dr. Hopson will be serving as a clinician host for two of the visiting lecturers, Dr. Lori Trost and Dr. Fred Margolis.
Dr. Trost is an accomplished educator and lectures on a regular basis throughout the United States, Canada, and Mexico with topics spanning from current cosmetic techniques and materials, minor tooth movement, to practice management and team building.
Dr. Margolis is a clinical instructor at Loyola University's Oral Health Center and is a pediatric dentist. He has authored "Beautiful Smiles of Special People", a course manual for working with disabled patients and co-authored "Pediatric Laser Dentistry: A User's Guide".
Bonham Dentist Nominated for Texas AGD Dentist of the Year Award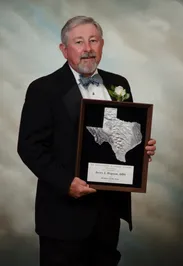 Bonham - (September 7, 2013) – Dr. Jerry J. Hopson of Bonham, has been nominated for the Texas Academy of General Dentistry's (TAGD) Dentist of the Year Award. It is considered the most prestigious honor a Texas dentist can earn.
Dr. Hopson is one of only 20 dentists nominated for this year's award. He and the other nominees were honored at a special gala on Saturday, September 28, during TAGD's annual Lone Star Dental Conference in Austin. Each nominee was recognized and received an engraved plaque. The gala was concluded with the announcement of the 2013 Texas Dentist of the Year and the presentation of the trophy to the winner, Dr. Doug Bogan.
Dr. Hopson is a 1978 graduate of Baylor College of Dentistry and now maintains his practice in Bonham, Texas. He is a member of the American Dental Association and an alternate delegate to the ADA House of Delegates. As a member of the Texas Dental Association, Dr. Hopson presently serves on the TDA board of directors. Also, he is involved in the Fourth District/ North Texas Dental Society serving as a past president, vice-president, and board member. In Bonham, he has served as president and vice president of his local Bonham Rotary Club, as well as on the board of directors.
From the beginning of his career, Dr. Hopson had a passion for serving his patients with friendly personable care providing high quality dentistry. His colleagues are eager to recommend him and Dr. John wise says, "Jerry's greatest capacity as a dentist may be his ability to see the person, not just the teeth. He makes every effort to wed his dental knowledge with his amazing people skills. Additionally, amongst his peers, Jerry is always on the short list of folks whose opinion matters most. He is indispensable as an advisor, mentor, and leader."
The Texas Academy of General Dentistry is the second largest dental organization in Texas. Its nearly 2,700 members are dedicated to continuing dental education in general practice. To earn a nomination by a local AGD component or local dental society, a dentist must demonstrate dedication to the profession, service to the community, commitment to the principles of continuing education, and participation in other activities that indicate character and excellence.
Dr. Hopson attended the annual session of the American Dental Association in New Orleans, Louisiana. He represented the Texas Dental Association as a delegate to the ADA House of Delegates which reveiws and votes on resolutions affecting dentistry and the care of patients.